Home
>
358 Security Fence
>
australia portable sheep ranch farming bar fence panels (China anping manufacturer/supplier)
australia portable sheep ranch farming bar fence panels (China anping manufacturer/supplier)
australia portable sheep ranch farming bar fence panels (China anping manufacturer/supplier)Specifications portable sheep ranch farming bar panels hot dipped galvanized australian hot sales economy/quality/cheap pin inter-locking australia popular portable sheep ranch farming bar fence panels (China anping…
Product description
australia portable sheep ranch farming bar fence panels (China anping manufacturer/supplier)
Specifications
portable sheep ranch farming bar panels

hot dipped galvanized

australian hot sales

economy/quality/cheap

pin inter-locking
australia popular portable sheep ranch farming bar fence panels
(China anping manufacturer/supplier)
Material: hot dipped galvanized pipes
Process: galvanizing pipe cutting, welding, welding spots grind/smooth, welding spots anti-corrosion paint, silver paint
Welding:
–360 degree firmly welded
–welding spots neat and smooth, prevent sheep and goat get hurt, very safe
–welding spots anti-rust finish, very durable
Design:
–square vertical pipe/post, welding easy and firm, much durable, and it's more beatiful
–oval horizontal rails, no sharp edge, can protect sheep and goat from getting hurt, high safety
–lamb-proof rail spacing
–middle braces for high strength and heavy duty
–with welded top caps and foot plates, water and dust proof
–welded "U" and "L" lugs for easy connection. The lugs are welded to bracket all four sides, very durable.
–can with hole on one or both two legs for ground pin
–2xjoining pins are supplied for each panel
Specifications:
Sheep & goat panels specifications

size

post

rail

spacing

finish

1m x 2.8m

Square 40x40mm

Oval 30x60mm

Decease from top to bottom, can as your needs

Hot galvanized

Or

Powder coating

1.17m x 2.75m

Square 50x50mm

Oval 40x80mm

Different designs and specifications are available as your requests and drawings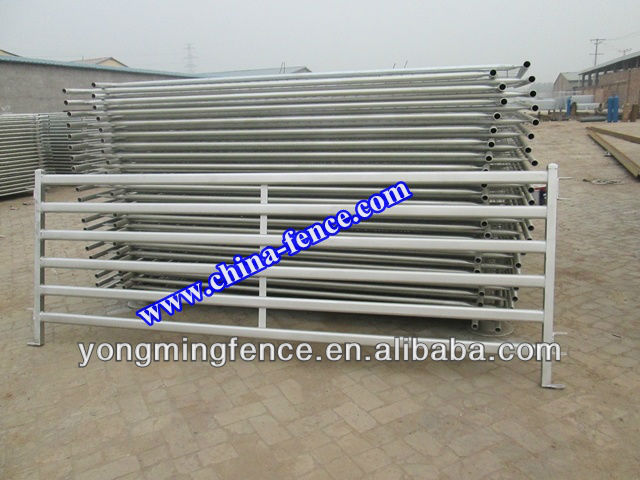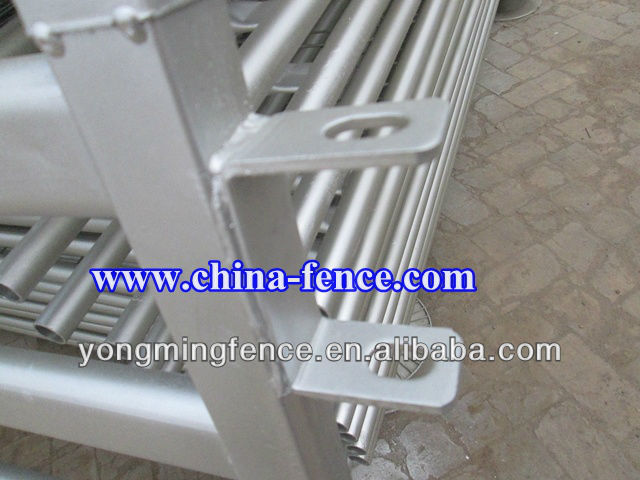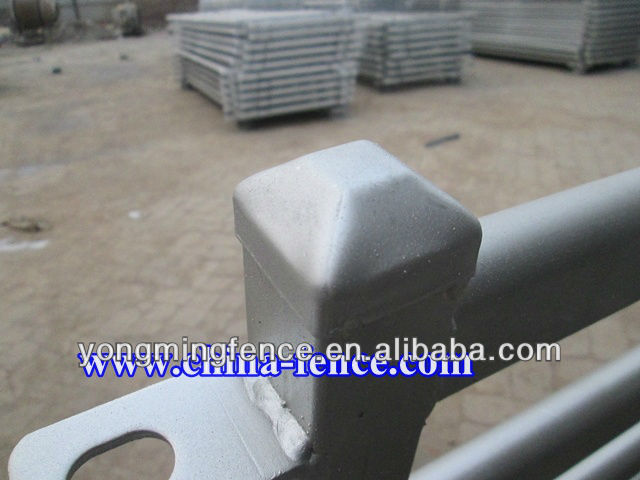 matched gate
–U frame
–with hinges, can open 180 degree, we can also do 360 degree open type on requests
–with chains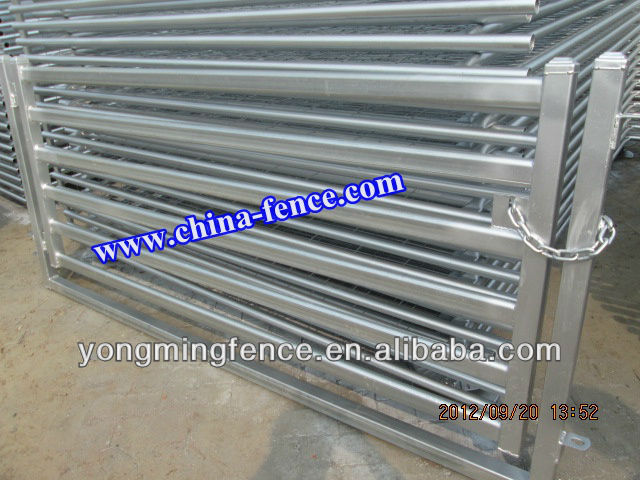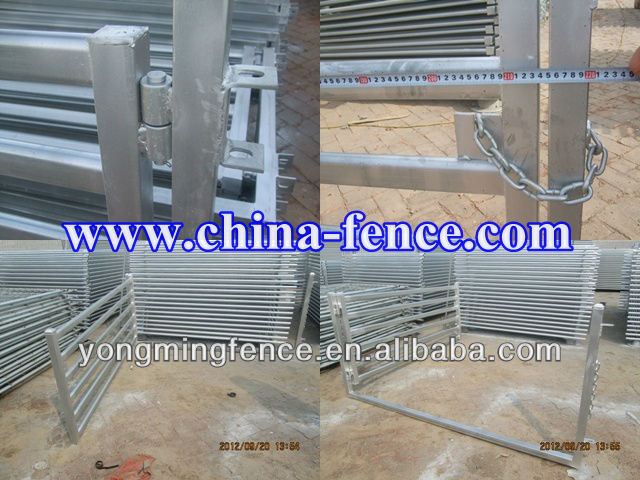 Applications:
–livestock sheep/goat corral fence, round pen, yard fence, enclosure panels
–very suitable for rotation grazing, easy install and dismantle, no need to do damage to the ground and grass
–lamb-proof small spacing
Main markets:
Australia (mainly melbourne, sydney, adelaide, brisbane etc.)
New zealand
Our factory is a leading factory for australia and new zealand markets, and our fences highly according to australia standards. We believe quality based on suitable prices is the basis to establish long term cooperation with our clients.
Welcome your sincere inquiries and visiting to our factory.

Quick Details
Type:




Fencing, Trellis & Gates

Place of Origin:




Hebei, China (Mainland)

Brand Name:




XM

Model Number:




XM/SP-001

Frame Material:




Metal

Metal Type:




Steel

Pressure Treated Wood Type:




Nature

Frame Finishing:




hot-dipped galvanized

Feature:




Easily Assembled, Eco Friendly, Rodent Proof, Rot Proof, Waterproof

finish:




pre hot dipped galvanized, zinc:120g/m2

vertical post/pipe:




RHS50X50mm or RHS 40x40mm

horizontal rails:




Oval 30x60mm or Oval 40x80mm

features:




heavy duty, durable, portable, high security (animal anti-hurt)

package:




wih high quality steel pallets

hot sales markets:




australian and new zealand

supplier property:




20-year experienced China factory, having containers to AU every month
Please Contact Us !
[contact-form-7 id="25384" title="联系表单"]